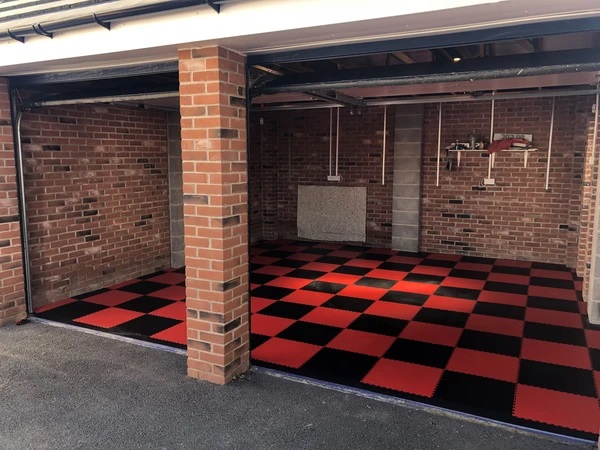 Welcome back Well, it has been another shaky start to 2021 in more ways than one, but here at Mezz9 we have been busy. Our website has been having a big overhaul behind the scenes, not that you will notice as it still looks as fabulous but with a much easier to navigate ordering system. A lot of work has gone into making your visit and purchase move seamlessly. We have also added some new products, listed below are some of them.
New Tile Style Flooring We have been installing some of our new tile style flooring to a customer that has had a new garage built and wanted a clean finishing touch. The results looked amazing we have added some pictures below so you can see. This easy to install flooring can be ordered through our website and you can install yourself or our experienced team of installers will be happy to fit at an extra cost. This workable flooring idea will help bring a potentially unused space into a transformed working area, gym or even an office now a lot of us seem to be working from home. The tiles can be installed to fit out garage areas and "man caves" but we can also offer our vented tile option that can be installed outdoors around hot tubs. This option makes it easy to clean and keep hygienic.
New mezzanine floor, staircases supplied and installed. We have had a busy start installing new mezzanine floors, with customers wanting to maximise their warehouse space to its full potential. One installation at Bespoke Kitchen Foods Ltd, we completed over the client's refrigeration units, a little bit trickier than usual but we like a challenge!! This was fitted over a weekend to fit in with our customer's needs, we try to accommodate all our client's specifics requests if we can.
Local Install for a returning customer
Most recently we installed a large floor at All Weather Window, on this job we needed to appoint a specialist company to carry out the core samples on the concrete slab and provide test results to building control/approved inspector for the new mezzanine floor.
Also, we had our safety netting and handrail installed as always safety comes first ……